When subscribers click to unsubscribe, you have the option to also ask them why they unsubscribed.
Enable the Unsubscribe Reason Collect Feature
Click the Account Folder
Click Account Preferences
Find the Other Information section at the bottom of the page
Click Edit Company Settings
Find the section called Unsubscribe Reason Collect Enabled
Type in a 1 value to enable the unsubscribe collection feature
Now when subscribers click to unsubscribe, they will receive an unsubscribe confirmation and the following message: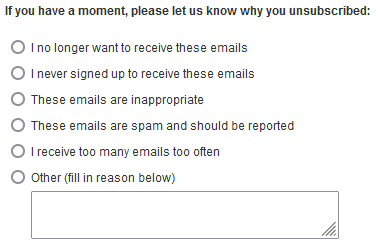 View Unsubscribe Report
When subscribers choose to tell you why they unsubscribed from all, you'll be able to see this information in the Export Unsubscribes and Hard Bounces by Date Range report as shown below:
| | |
| --- | --- |
| Subscriber Selected Reason | Value in Export |
| I no longer want to receive these emails | Do not want |
| I never signed up to receive these emails | No sign-up |
| These emails are inappropriate | Inappropriate |
| These emails are spam and should be reported | Spam |
| I receive too many emails too often | Too many or too often |
| Other | Other |
| No entry provided | |
The final row represents no option provided. This is shown when a subscriber leaves the page without clicking the submit button on the survey page.